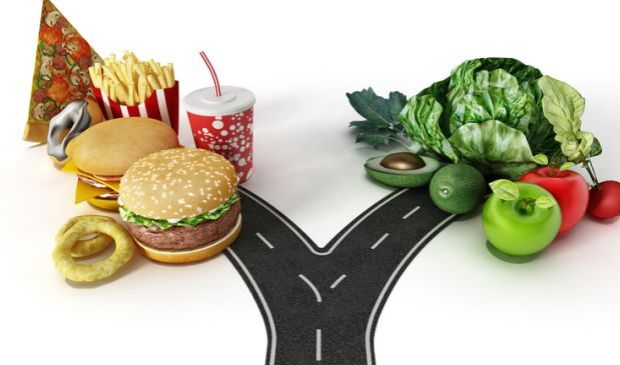 Diets don't work. Repeat: Diets don't work.
When you follow crazy fads or try to impose crazy restrictions on your food, you're setting yourself up for disaster. And be honest – you know that's true! Otherwise, you'd have stuck with the grapefruit diet or you'd still be eating cabbage soup.
But you know what else is equally as daunting? Immediately changing your entire diet to a healthier one.
So rather than going full-on low-carb or hopping into the Whole 30 method, a much more manageable approach is to start slow and swap. This way, you don't lose any of your favorite foods, and you'll be far more likely to make even more swaps as you get the hang of things.
Here's our list of the simplest swaps to make for the new year.
Swap 1: Whole Grain for White
You don't have to drop the gluten in order to be healthy, but you can change out your nutrition-free white bread for a heartier, whole-grain version and still enjoy your carbs.
"Whole-grain bread provides more essential nutrients and more health benefits than white bread because it is less refined and still contains the nutrient-rich bran and germ, both of which are removed when making white flour," says Live Strong.
You'll adjust to the flavor quicker than you think, and still be able to enjoy sandwiches and toast like always.
And there are so many versions of whole grain bread that have things like flax seed and sprouted wheat that add even more nutritional value to your diet.
Swap 2: Veggies for Chips
This might sound ridiculous – replacing your usual tortilla chips or crackers for cut veggies – but we promise, it works.
Chips and crackers can add a ton of sodium and saturated fat to your diet, and when you add your favorite dip to the mix, it can happen so quickly!
But rather than cut out your crunchy snack altogether, swapping the carbs for some veg has double benefits: You still get to enjoy hummus, salsa, even a cheese dip, while eating a serving or two of veggies that you wouldn't have otherwise.
Try English cucumbers (the kind in the wrapper), baby carrots, fresh green beans and bell pepper. This means satisfied cravings with tons of fiber and other nutrients. Win-win.
Swap 3: Non-Meat for Meat
Stay with us – we're not saying you need to become a vegetarian overnight, but every once in a while, it can be really good for you.
And don't think you have to eat soy alternatives or weird ingredients you can't pronounce. A simple beans-instead-of-beef swap can make taco night super filling and healthy. Or some simple veggie burgers that come together in a snap with ingredients like sunflower seeds and sweet potatoes make a veggie option much tastier.
This will not only reduce your fat and sodium intake from beef, it'll give you that extra boost of nutrients that plant-based proteins offer.
Swap 4: Fruit for Dessert
Don't freak out just yet. We don't mean you should be eating apples instead of cookies, but there are desserts out there that aren't completely void of nutritional benefits.
Banana-coconut "nice cream" is a silky sweet alternative to your favorite dairy treat, and black bean brownies are so decadent and chocolatey, you won't even believe they're flour-free.
And if all else fails, the classic strawberries with whipped cream route is always a hit.
No matter what you swap or how successful you are, don't stop trying! Every good decision you make should remind you that you care about yourself and the health of your family, so keep fighting the good fight.